Virtual Sports Day
Virtual Sports Day
22 June 2020 (by Ben Kilburn (MrKilburn))
As we can't hold an actual Sports Day in school this year, Mr Hosker has created a virtual Sports Day for everyone to compete in.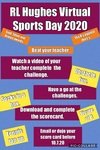 This week is National School Sports week so we're taking the opportunity to launch our Virtual Sports Day.
Head to https://www.rlhughes.wigan.sch.uk/…/home…/virtual-sports-day and download a scorecard to complete. There are also some videos of the school staff demonstrating their skills at the challenges.
Once you have finished send your completed score card to your class teacher via ClassDojo messages. You have until 10/7/2020 to complete the activities that you want to do.
Most importantly, have fun!