A Message for our children from our Headteacher
A Message for our children from our Headteacher
25 March 2020 (by Ben Kilburn (MrKilburn))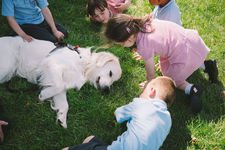 Dear Children
Last Friday we closed the school gates for a little while. It feels so strange to us grown ups, does it to you as well?
It's ok to feel a bit unsure and strange and sad that we won't all be together for a little while. Your teachers are already missing you, they feel a bit confused and sad too. They are staying in their houses as well. All your friends miss you millions. They are staying at home too. We all have to stay at home because there is a nasty bug going round, have you heard people talking about it?
What do you know about it?
Well here's what I know. The Queen and Boris Johnson went on the news and told the grown-ups we need a massive clean-up. THE WHOLE COUNTRY! They said they couldn't clean up properly with us all being everywhere because we kept messing it up again so they said. "Right if you all stay
home for a little while we will send some really special people to do a big clean up, and it might take a while but it's important that we get rid of this bug!
So my lovely children, I know you are brave and strong and kind and you are super at doing as you are told. Can you help me please? Will you stay at home and as soon as the big bosses say we can come back to school, I promise I'll Dojo you straight away.
Deal?
Ok, until then your teacher is going to send you some work, can you do it for your grown up at home, please? No complaining or else I'll be taking your Dojo's away!! When we can all come back to school we are going to have a big party and I want you to be there so we can dance together!
I've locked school up for a little while and it might even turn into a long while but as soon as we are allowed to open I'll get you straight away and I will be waiting at the gates with Albie to see your beautiful smiley faces. Until then enjoy time with your families: sing the songs that we love to sing in assembly, make them laugh, be silly and most of all smile because your beautiful smiles light up our hearts and we can't wait to see them again.